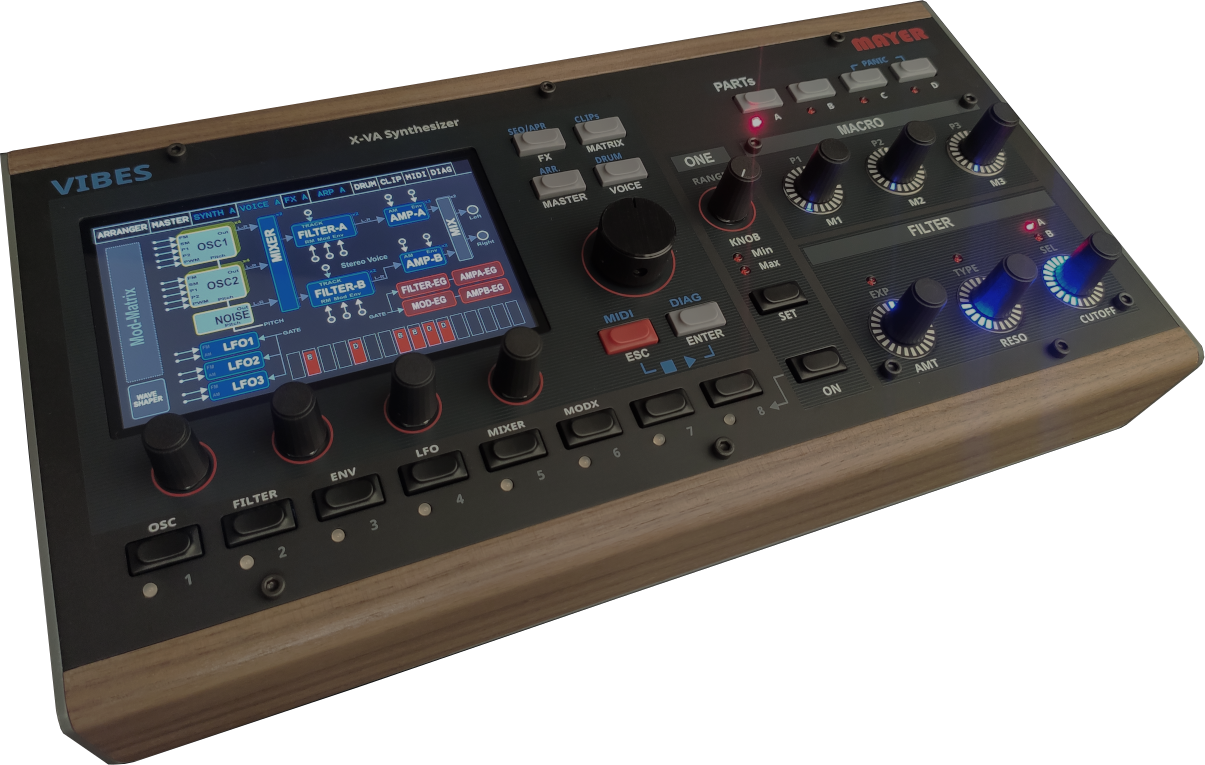 Introducing Vibes - The Ultimate Polyphonic Stage Synthesizer
Unlock the limitless possibilities of music creation with Vibes, the state-of-the-art polyphonic stage synthesizer. Designed to deliver an exceptional musical experience, Vibes offers unrivaled functionality identical to the renowned MD900, while introducing multitimbral capabilities with 4 individual parts. Immerse yourself in a world of sound as Vibes combines a remarkable polyphony of up to 16 voices, harmoniously shared among the four multi-timbral sections.
Unleash Your Creativity with Powerful Effects
Each of the four parts in Vibes boasts its own effect stack, comprising a wide range of transformative effects. Dive into the depths of sonic exploration with Mod-Delay (featuring flanger, chorus, and vibrato), Reverb, Tube-AMP, EQ, LP-Filter, DYNAMIC (Limiter), Stereo Delay, and more. The overall audio path ensures a captivating stereo experience, allowing you to fully immerse yourself in the richness and depth of the sound.
Unleash Captivating Rhythms and Sequences

Ignite your compositions with the brilliance of Vibes' four independent arpeggiators and step sequencers. Each synth part is assigned its own dedicated arpeggiator and step sequencer, enabling you to effortlessly create mesmerizing melodies and captivating rhythms. The trigger sequencer adds an extra layer of versatility, empowering you to trigger the built-in transient sample player, featuring a remarkable Drum Kit .wav collection, or send triggers to external devices via MIDI-Out (DIN-MIDI or USB-MIDI).

Unmatched Elegance and Durability

Crafted with excellence in mind, Vibes boasts an impeccable design. The housing is meticulously constructed using premium-grade aluminum, complemented by the timeless beauty of real walnut wood on the front and back panels. Every component is carefully selected for its industrial-grade quality, ensuring exceptional performance and durability.

Intuitive Controls for Effortless Precision

Navigating Vibes is a seamless experience, thanks to the operator panel's precision incremental encoders. These encoders, adorned with surrounding LED rings on the main controls, provide a tactile feel reminiscent of a potentiometer. Every adjustment becomes a delight, allowing you to fine-tune your sounds with utmost precision and control.

XVAOS Structure

The XVAOS is fully compatible to the MD900
Experience True Value and Musical Bliss
Vibes delivers an unparalleled sense of value and satisfaction. From its top-of-the-line features and effects to its impeccable craftsmanship, every aspect of Vibes exudes excellence. Engaging with Vibes is a gratifying experience that transcends expectations, making it an indispensable tool for musicians and music enthusiasts alike. Discover the joy of creating music with Vibes and elevate your musical journey to new heights.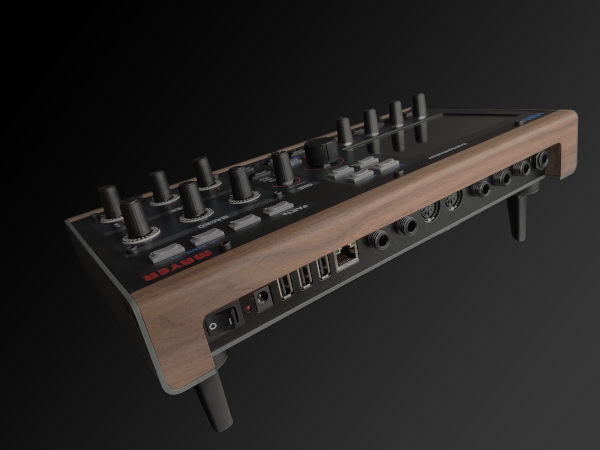 Vibes features
Power: External 15V DC power brick 50W



Audio Out: Left 6.3mm mono jack, right/left 6.3mm stereo jack



Audio In: 6.3mm stereo jack



Headphone: 6.3mm stereo jack



Midi DIN: 1x Midi Input, 1x Midi Output



3x USB 2.0 Host



Pedals: 1x Pedal switch input 6.3mm jack, 1x Standard expression pedal 6.3mm jack



5" 800x 480 Color (24bit) capacitive touch display



5x endless encoders, 6x endless encoders with Led rings, 1 potentiometer, 20x switches, 18x Leds



Dimmension: 320mm x 168mm x 55mm